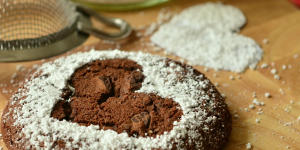 Excel Quick Help's Website Cookie Policy
A cookie is a small amount of data (sadly, in this context not the delicious-looking pastry on the right), which often includes a unique identifier that is sent to your computer, mobile phone, tablet or other device's browser. The cookie is sent from a website's computer (usually referred to as a webserver), and is stored on your device's hard drive.
Most websites use cookies.
Excel Quick Help does not use cookies to collect personally identifiable information.
Each website can send its own cookie to your browser if your browser's preferences allow it, but (to protect your privacy) your browser only permits a website to access the cookies it has already sent to you, not the cookies sent to you by other websites. Many websites do this whenever a user visits their website in order to track online traffic flows.
Cookies cannot be used to identify you personally. A cookie does not give access to your computer or any information about you, other than the data you choose to share.
Cookies are useful because you have access to all the features on a website, your preferences can be personalised, and you can keep track of which pages you have visited.
Excel Quick Help website uses cookies because it enables Excel Quick Help to:
measure how many people are using our services and information
analyse how our services are used and enable us to improve them.
Cookies used by Excel Quick Help:
Google Analytics: Google Analytics tracking software gives useful reports about our website visitors. Google Analytics cookies do not collect personal data. For more information read Google's website about Cookies Set by Google Analytics.